MINT Intel Xeon Gold 6136 12 core FCLGA 3647 (24,75 Mb cashe, 3,00 GHz)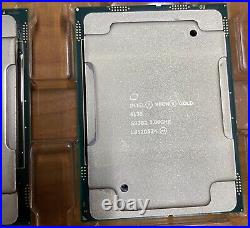 Boost Your Server Power with the Intel Xeon Gold 6136?? Presenting the formidable Intel Xeon Gold 6136 12-Core CPU, designed for performance, reliability, and scalability in server applications. Offering a base frequency of 3.00GHz and a max turbo frequency of 3.70GHz, this processor ensures rapid and responsive computing for your server workloads. Condition : This processor is in mint condition, meaning it's as good as new.
It's been meticulously cared for, and is ready to deliver optimal performance and reliability for your server's requirements. 12 Cores and 24 Threads: Multi-task with ease, handle demanding server workloads smoothly. 24.75MB Cache: Enhances your system's efficiency with speedy data access. Turbo Frequency: Ramps up to 3.70GHz for those demanding tasks that need extra power.
Socket 3647: Fits perfectly into motherboards with the 3647 socket. 150W TDP: Manages heat effectively while maintaining powerful performance. SR3B2 Stepping: Signifies processor revision for optimal compatibility and stability.
Supports Up to 768GB DDR4 RAM: Accommodates a massive memory capacity to handle all your server needs. Max RAM Speed: Supports up to 2666 MHz, enabling quick data access and processing. 48 PCIe Gen3 Lanes: Expands your server's capabilities with extensive connectivity options.
The Intel Xeon Gold 6136 CPU is the ideal choice for servers running high-performance computing (HPC), data analytics, multi-cloud deployments, and more. Transform your data center with this powerful processor today!
Don't miss our competitive pricing for this high-end Intel Xeon CPU! Secure your server's upgrade with peace of mind, and tap into a new level of performance with the Intel Xeon Gold 6136 CPU! Note: Ensure compatibility with your server's motherboard before purchasing this processor.