Intel Xeon X5365 3 GHz, 8M, 1333MHZ, LGA 771 QC Processor CPU (10) Pieces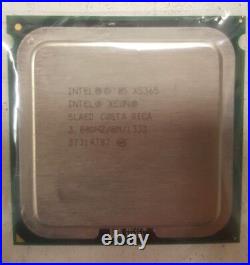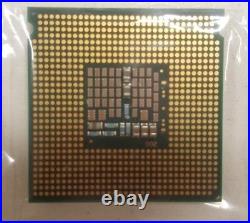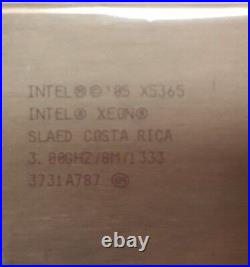 Start enjoying snappy response times and other productivity-boosting features with the Intel Xeon X5365 3 GHz Quad-Core processor. This digital CEO will give you tools that can help to improve your personal and commercial projects.
The Intel Xeon X5365 is powered by a quad-core processing unit. By including four separate cores in one compact package, this better supports specialized server requirements such as virtualization.
Humming along at 3.00 GHz, the Intel X5365's four separate cores share the burden of server operations. This capability means that applications and services get prompt attention.
With 8MB of L2 cache memory, multiple core operations allow your server to be ready for heavy workloads. The Xeon X5365 also sports a 1333 MHz internal front side bus speed.
This allows it to handle CPU data traffic more efficiently, resulting in fluid operation. The 3.00 GHz Xeon central processing unit has many built-in advanced features, and each is designed with your convenience in mind.
Intel's Turbo Boost tech monitors your processor's operating condition. When less power is needed, it reduces CPU frequency, and when more is required, it increases it.
This saves valuable energy along the way and promotes chip longevity. Working hand in hand with Turbo Boost is Intel's Hyper-Threading chip architecture. This enables each core to handle two processing threads simultaneously.
This increases the amount of work each core can handle, which means that you'll be able to get more work done in less time. The Intel Xeon X5365 is also capable of providing support for data centers and individuals who require virtualization capacity. It includes Intel's VT-x with Extended Page Table technology. This optimizes virtual application operation by providing processors with memory acceleration on demand. For devices that handle a number of different virtual infrastructures, VT-X capability can be useful during high traffic periods.
Businesses that opt to include virtual infrastructure and application capability also stand to save resources. The Xeon processor brings a 64-bit data processing capability to the table. It does so for a variety of different platforms, including workstations, mobile devices, desktops, servers, and more. This also allows for backward compatibility while giving you the ability to handle both virtual and physical memory larger than 4GB.
Another feature included with this chip is the Enhanced Intel SpeedStep tech. This design is capable of altering voltage and frequency levels simultaneously. Use it to give the processing unit a boost when it needs it, providing another level of performance. Servers running multiple virtual infrastructures and applications can draw significant power, but Intel solves this issue by including its Thermal Monitoring Technology design on this chip. This acts to shield the system as well as the processor package from thermal failure and possible damage.
A specialized Digital Thermal Sensor is placed directly on the processing unit. This allows for faster reaction to potential heat or voltage issues. These features act in tandem to greatly increase the durability of the server. 1 x processor - LGA771 Socket. Extended Memory 64 Technology (EM64T). The pictures include everything that you will get, unless specifically noted in the description. All of the items we sell are listed as "AS CHARACTERIZED". NO guarantees are made on the status of these items further than what is described in the listing. We strive to be extremely reasonable, and will go out of our way to solve any issues quickly and fairly. Please check compatibility before looking. WE DO NOT CANCEL ORDERS!! Be sure to include your country, city and postal code. We are committed to giving our customers 5 star service. We will do everything we can to work things out to your satisfaction. We will answer your messages within 24 hours.