Intel Xeon Platinum 8490H QS version 60 cores/120 threads, 1.9- 2.9GHz CPU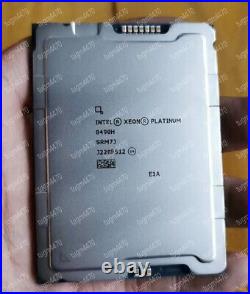 You can find all you need here. Intel Core I7 3820QM I7 3840QM I7 3920XM I7 3940XM (SR0T2) Extreme Edition CPU. AMD Ryzen 5 3400G R5-3400G 3.7 GHz 4-Core 8-Thread Socket AM4 65W CPU Processor. AMD epyc 7401p CPU processor 24-core 2ghz PS-7401p. Intel Core i7-3770K 3.5GHz Quad-Core (BX80637I73770K) Processor. AMD FX-8100 8120 8150 8300 8310 8320 8350 FX-8370 CPU Processor.
Intel Xeon Platinum 8180m CPU processor sr37t 28c 2.5 GHz 205w LGA 3647. Thank you for your attention!
Nless the product is in question, we will. If you have any questions, please send Message. Us directly, we will reply to. You in time during the working hours in China, thank you.