INTEL XEON GOLD 5222 SRF8V 3.8GHz 16.5MB QUAD CORE CPU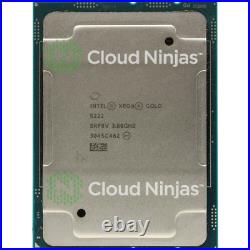 INTEL XEON GOLD 5222 - SRF8V - 3.8GHz 16.5MB QUAD CORE CPU Xeon Gold 5222 is a 64-bit quad-core x86 high performance server microprocessor. The Gold 5222 is based on the Cascade Lake microarchitecture and is manufactured on a 14 nm process. This chip supports 4-way multiprocessing, sports two AVX-512 FMA units as well as two UPI links.
This microprocessor supports up 1 TiB of hexa-channel DDR4-2933 memory, operates at 3.8 GHz with a TDP of 105 W and features a turbo boost frequency of up to 3.9 GHz.