Eight Core Apple Mac Pro Original 1,1 3GHz XEON CPU X5365 SLAED A1186 upgrade 8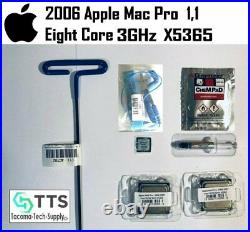 We are a family owned computer upgrade company located in. We also are CompTia certified PC techs so you can count on your PC or PC part getting lots of attention, tested, and cleaned (if necessary). We take pride in the computer or component you get and also the reasonable price you pay.
Eight Core upgrade kit for the Original Apple Mac Pro 1,1 to 3GHz XEON CPU X5365 SLAED A1186. This is an upgrade kit for the Apple Mac Pro 1,1 or 2,1. This kit comes with everything you will need to turn your Mac Pro into a Two - Quad Core 3.0GHz system. Yes that's 8 total cores! Two Intel Xeon 3.0 GHz (X5365) SLAED Quad Core Processors.
One tube of Thermal Paste. One Genuine Intel Xeon case sticker. One ChemTronicis Chempad® for cleaning your heat sinks. One 3mm long handle Hex wrench.
One anti static ESD wrist strap. Lifetime Tech Support for all of your PC and Mac needs. Please let us know if you have any questions. If for some reason the product becomes faulty after this date, we will still work with you on a solution. Friendly Computers USA can not be responsible for any damages or other losses caused by the use of, or installation of the product. It is also the buyers responsibility to do any research (if needed) to insure a smooth hardware installation. It is very safe and easy.